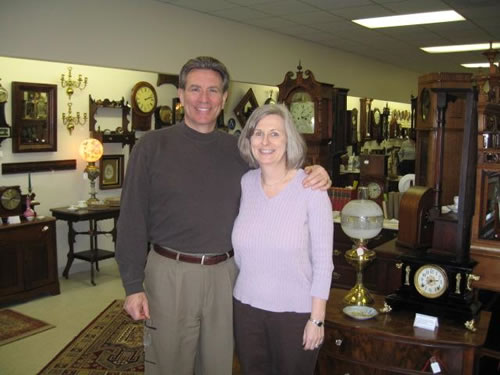 DoveTail Antiques has been the Williamsburg area's finest antique business since 2006 and is owned by Sue and Jeff Ade. The Ades are residents of Williamsburg and have a combined 20+ years of antiquing experience at DoveTail Antiques! We said a sad good-bye to our old storefront on Richmond Road in January 2016 and have been participating in antique shows since. Our fine inventory of antique clocks, pocket watches and barometers is available at the shows or through our website – www.dovetailantiquesatnorge.com. We have maintained our old phone number – 757-565-5600 and you can also email us through our contact page. Therefore, we can be reached at shows, our website, phone or email!!!
Our website includes our Antique Show schedule for your convenience. All of our inventory is on the website – please feel free to go through it frequently – we update it daily and you can always see our newest items in chronological order under "What's New" in the left hand column of the website.
Jeff continues to work at Williamsburg Clocks repairing clock and watches. We have a small display there and can always meet any customer at the clock shop to show, explain and arrange to purchase any piece(s) of our inventory if we know what you are interested in seeing.
As your DoveTail Antiques team, Sue and Jeff offer a combined 20 years experience with a great variety of knowledge and specialize in antique clocks and watches. To all of our past, current and future customers, please feel free to contact us by email or phone during business hours and we'll be glad to help make your antique wishes come true.