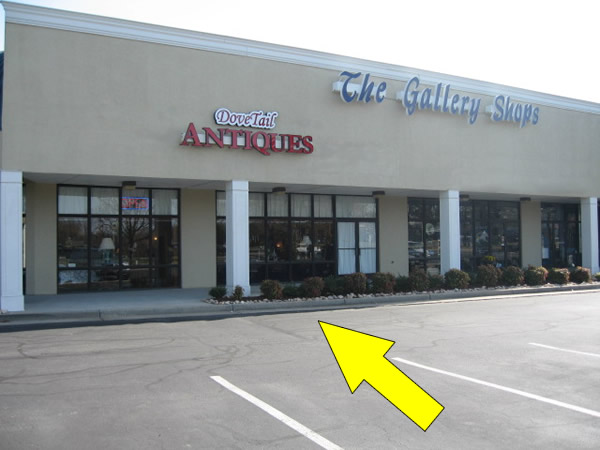 Welcome to the DoveTail Antiques' website. We have our store's inventory available for you to see online but we always run specials every month – if you see something you like, please call and we'll be glad to help you if you're unable to come in person. Our address is 6588 Richmond Road (Route 60) in Williamsburg, zip code 23188 for your GPS. Our wonderful 3000 square foot store is located to the left of the New York Deli and before the Williamsburg Pottery. The phone number is 757-565-5600 – please put it in your cell phone! Stop by and say hello – we are always looking forward to meeting new friends and welcoming back old ones. Sue, Cheryl and Jeff wish you and yours a terrific 2015 and hope you'll have a chance to stop by and visit DoveTail Antiques – we're sure you'll be delighted!
The left side of our home page has a listing for "What's New" so you can click on that tab to bring up a chronological listing of all items as they've been placed in inventory. Of course, you can also click on any of the tabs in the left column and see all the items listed in that section as accessories, dining room, clocks, etc. You can also visit our Facebook page to see our latest special items - Sue puts unique pieces there for extra emphasis!
As we enter our 9th year at DoveTail Antiques Sue and I would like to thank our many friends and customers for their continued support and welcome new acquaintances that haven't visited DoveTail yet. We have been voted "One of the Best" in Williamsburg each year we've been in business and we're proud of our reputation, products and service that are the cornerstone of our success. We would like to extend an invitation to visit DoveTail Antiques and see the sights in Williamsburg, Jamestown and Yorktown – Virginia's Historic Triangle. Williamsburg is a wonderful destination and we have been very happy to welcome many dedicated "antiquers" from all over the country. We are making every effort to provide quality antiques so that whether you are local or long distance, everyone can always remember DoveTail Antiques as a satisfying experience and great place to come back to for their next visit. We have added a shipping program and can have any item, from a pocket watch to a china cabinet, brought to your door – this has been a rousing success in 2014 so we are continuing it for 2015.
Sue and I are proud of our store - pictures don't do it justice, you must see it to enjoy! Our merchandise is very attractive, cleaned, displayed well AND reasonably priced. We have always focused on the more formal furniture – walnut, cherry and mahogany PLUS the "country side" (primarily oak) and handmade pieces – so drop in when you're in town.
As usual, we have Virginia's finest collection of antique American, English, German and French clocks, pocket watches and barometers. DoveTail Antiques has established a reputation for having unique and uncommon clocks - we tell everyone "You can buy any clock you'd like, but you can't have it until it works perfectly!"
Jeff also works at Williamsburg Clocks and makes every effort to ensure complete customer satisfaction with every clock. Our unique and wonderful pocket watches - from the early Continental fusee key wound types to the more recent 20th century railroad watches from Waltham, Elgin and Hamilton (to name a few) are all serviced and in perfect operating condition. We are also focusing on expanding our ladies pocket watches - they were beautiful jewelry back in the day and women have rediscovered their beauty and distinct uniqueness as personal accessories today! Our selection of railroad pocket watches is exceptional and we always offer a group of "budget-busters" for those just beginning their collections. Jeff and Sue have also gone far and wide to locate a fine selection of unique mens and ladies fobs, watch pins and chains - all from the 1800's and early 1900's. All are original and wonderful items that will never be replicated!
We have also entered a new endeavor - antique radios. Our goal is to have all working perfectly so our customers can fully enjoy the full experience of hearing the proper sound from each! Most also have shortwave that is broadcast from around the world – a new experience that has been around for 100 years!! We have purchased a wonderful collection of antique radios from the early 1900's up through the 1940's and are in the process of restoring them. They are beautiful works of art that deserve to live another day. Watch our website - the radio section is expanding. The only catch is that you have to come into the store to see them in person. Jeff, Sue and Cheryl all look forward to helping you so please stop by at your earliest convenience.
Come shop for the finest antiques in the Richmond/Williamsburg area.

6588 Richmond Road
Williamsburg, VA. 23188
757-565-5600

Contact Us